Welcome to the home page of the Kestrels – our fabulous Year 5 and Year 6 class, led by Mr Grundy-Holmes and supported by Mrs Cresswell.
Year 6 expectations
As we all know, Year 6 is an important year for all of our children. Pupils are expected to work harder and more swiftly in order to achieve targets and goals that they will be pushed to reach. It is expected that children in Year 6 are to set a positive example to the rest of the school for behaviour and attitude towards learning. All children are also expected to take more responsibility for themselves and their learning this year, becoming a more independent learner in the process. They will be given job roles to fulfil to support them in becoming more organised and reliable throughout their final year at Grainthorpe.
Autumn Term 1  - A Child's War

A siren sounds and a Spitfire zooms overhead! It's 1939 and Britain is at war.
This half term, we'll imagine what it was like to be evacuated and live with a family other than our own. Using different source materials, we'll learn about evacuation and write letters to our families 'back home'. We'll plot the Second World War's events on a timeline and learn about rationing, Pearl Harbour and the Battle of Britain. From a range of maps, we'll identify safe and dangerous places during the war and make persuasive posters to support the war effort. After reading an extract from The Diary of a Young Girl by Anne Frank, we'll write our own diaries. From a range of sources, we'll find out about children and school during the war and learn about discrimination that existed at the time. We'll learn about what it was like during the Blitz and think about how soldiers might have felt. In D&T, we'll make Anderson shelters and cook delicious wartime food. At the end of the project, we'll reflect on Winston Churchill's stirring speeches and write our own. We'll compose and perform wartime songs and create a presentation to show what we have learned.
Why not visit a local museum together to investigate how the Second World War affected your local area? You could also read an exciting fiction book set during the war. Alternatively, you could 'make do and mend', working together to create a model inspired by the Second World War from recycled materials or unwanted household items.
Reading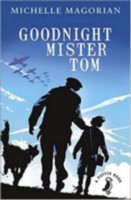 Our class reading book this term is Goodnight Mister Tom by Michelle Magorian. We'll use this as a stimulus for some of our writing and also dive deep into how the author uses language to have an impact on the reader. It will also allow us to understand evacuation a little bit better and make links between events in WWII.
Maths
We'll be going back to basics and revising place value, number and the four operations. We'll also consolidate our number fact recall such as times tables, number bonds and mental calculation strategies.
Homework
It is expected that all the Kestrels are to complete weekly Maths, Spelling and Reading homework. It will be set on a Friday with new homework due the following Friday. We highly recommended that children read regularly at home and record this in their reading journal, for which they will receive an award when reaching different milestones through the Reading Karate scheme. Homework will be set on ClassDojo, where it can also be submitted for feedback once completed.